Women all over the world have been painting their nails with beautiful and exotic colors for decades. However, these nail polishes are very harmful to your body. There are some very toxic chemicals contained in typical nail polish that can be easily absorbed into your body and cause some health issues. These same chemicals can also stain your nails causing them to look old and unsightly. This is not exactly what we are going for when we choose nail polish.
These chemicals also make your nails weak and brittle. Some nails tend to bend and break very easily when using traditional nail polish. However, in recent years there has been a revolution in the nail industry–a solution to the harmfulness of nail polish. It is called organic nail polish. This type of polish was created to grant you the ability to wear whatever color you like all while keeping yourself healthy and clear of harmful and toxic substances.
We have put together a list of what we think are the 10 best organic nail polish brands out there.
Product FAQ
1. What Is Organic Nail Polish?
Organic nail polish is a nail lacquer or polish that is applied to fingernails and toenails. It is made without many of the harsh chemicals and substances that are found in most other types of traditional nail polish.
2. What Does It Do?
Organic nail polish covers your nails with a beautiful color that is designed to keep them healthier. Most other nail polishes contain many substances and chemicals that make your nails weak, brittle and stained over time. These chemicals can also be absorbed by your skin to cause illnesses or allergic reactions. With organic nail polish, some of these unhealthy substances have been removed and replaced so that you get beautiful color and character without putting yourself at risk.
3. How Does It Work?
These nail polishes work by providing you with a beautiful way to cover your nails and still be healthy. Some organic nail polish even helps to improve your nails by adding vitamins and minerals to keep them healthy and strong.
4. Where Can You Buy It?
You can find many different brands of organic nail polish online through websites like Amazon and eBay.  They can also be found online through the manufacturers themselves and popular beauty stores like Ulta Beauty. Some of these polishes are available for purchase in big box stores that have a beauty department, such as Walmart and Target. However, their selection is typically limited when it comes to organic nail polish unless you shop online.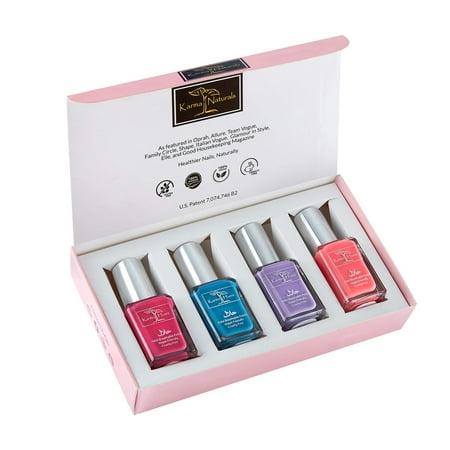 Buy at Walmart.com
5. Price Range
All of the organic nail polish listed here fall between $9 and $20.
Overall Price Range Of This Product
The organic nail polishes on this list fall between $9 and $20. Some brands tend to be more expensive than others for many reasons such as popularity, who they are endorsed by, and the cost to make them. Some higher-priced brands on this list are known to produce high-end beauty products and therefore can charge more for their products. It seems, though, that there are organic nail polishes that are pretty equal in comparison to those that are lower in price and even offer some better benefits.
What We Reviewed
Zoya Nail Polish

Deborah Lippmann Nail Polish
Tenoverten
Essie Nail Polish
butter LONDON + PANTONE Color of the Year Nail Lacquer
JINsoon Nail Lacquer
Obsessive Compulsive Cosmetics Nail Polish

Smith & Cult Nail Polish

Piggy Paint
Pacifica 7 Free Nail Color
Zoya Nail Polish
Zoya is one of the first brands to begin to offer a non-toxic option for nail polish. They have a "ten free" formula which makes them the most chemical-free brand on our list. They are also known to provide polish that is smooth and consistent throughout. It lasts a long time and makes nails even stronger and more resilient to chipping with their top coat options. Zoya has over 300 different colors and shades to choose from, with new colors emerging on the market every season.
Pros
Many colors to choose from
Free of harsh chemicals
Long lasting
Cons
Hard to remove with a special non-toxic nail polish remover, as is common with most of these organic nail polishes.
Deborah Lippmann Nail Polish
This brand of organic nail polish is designed with beauty and the environment in mind. The formula used is that of a gel, so you get a polish that is thick and long-lasting. This makes for a smoother finish that is even and lacks any streaking. It also makes the polish harder to chip; and therefore it stays on your nails for longer. However, this product is the most expensive on our list.
Pros
Doesn't have harsh chemicals
The brush is created for smooth even coverage
Gives a thicker, longer lasting coverage due to its gel formula
Cons
Expensive
Gel formula makes it harder to remove
Tenoverten
Tenoverten Nail Polish, Liberty

Product Type:Nail Polish
Item Package Dimension:7.366 Centimeters L X3.81 Centimeters W X7.366 Centimeters H
Package Weight: 0.068 Kilograms
Tenoverten was created by two friends for their nail salons in New York. What is unique about their polish is their "eight-free" formula that strives to keep harmful substances away from your body and provide you with a much healthier option for your nails. They offer a wide range of colors, but it's their pastels and creams that steal the show.
Pros
A wide variety of colors
Brilliant shine
Cons
Expensive
Does not prevent nails from splitting and cracking as is advertised
Essie Nail Polish
essie Nail Polish, Glossy Shine Finish, Petal Pushers, 0.46 fl. oz.

high, glossy shine finish nail polish ; provides flawless coverage along with outstanding durability; brush fits every nail size for streak-free application
essie nail enamels come in an extensive palette of shades from iconic classics like ballet slipper to trendsetting nail polish colors straight from the runway; nudes, blues, purples, black, white, rose gold, and more.
essie's salon-quality nail supplies are all you need for a stylish manicure or pedicure treatment at home, from base coat to top coat, and colors in shades ranging from classics to so-hot-right-now.
Essie is a well-loved and very well-known brand of nail polish. They can be found in just about any beauty department regardless of the neighborhood. However, they have evolved even more, as of recent, to include a new line that eliminates three of the most harsh and toxic chemicals typically found in nail polish. And of course, they are continually coming out with new colors of every shade and style to compliment every season.
Pros
Free of some harsh chemicals
Affordable
Found in many stores
Cons
Is only free of three harsh chemicals
butter LONDON + PANTONE Color of the Year Nail Lacquer
For this organic nail polish, butter LONDON has paired up with PANTONE to bring you an "eight-free" nail polish formula that is healthy and looks great. In fact, it looks good enough to be named 2018's color of the year. The polish has included a variety to it to make harmless to your nails and good for them too. This polish will help keep your nails strong and healthy.
However, it is important to note that most of the bottles available on the market are found in "fashion" size. This is a very small size more like a travel size of nail polish bottle, making it not very affordable.
Pros
Beautiful colors
Missing many harsh chemicals
Contains vitamins to keep nails healthy
Cons
Bottles are small
Doesn't dry quickly
Expensive
JINsoon Nail Lacquer

JINsoon has created a "five-free" formula to make nail polish healthier and more environmentally friendly for all. Their polish is known for its high-quality color, a long shelf life, and a long average wear on your nails.
Pros
Long lasting
Vegan-friendly
Smooth application
Cons
Obsessive Compulsive Cosmetics Nail Polish
This make-up brand was created in 2004 to design cosmetics and beauty products that combine effectiveness, healthiness, and beauty. So it is not surprising that they have concocted a vegan-friendly, PETA approved, and cruelty-free option for nail polish lovers. They also boast many high-definition choices for those that like bright and bold colors. However, many reviews note that the color that comes out of the bottle is not always close to the color that appears just by looking at the bottle or picture online.
Pros
Free of many harsh chemicals
Vegan and PETA approved
Long lasting
Cons
Not true to color
Expensive
Smith & Cult Nail Polish
Smith & Cult Nail Polish, Tang Bang

High Shine.Smooth Coverage.Long Wear.NOTE: This product is NOT damaged and rather the dings on the top are a stylized part of the cap design.
Unit count: 1.0
Number of items: 1
Smith and Cult is known for their high-end nail polish and "eight-free" formula, making it a highly organic option. Most other brands can only boast a 3, 5 or 7-free formula. They also offer a wide variety of colors and extras, like sparkled top coats, which make it easy to find a color that is perfect for you and your style.
Pros
Brilliant shine
Flawless Coverage
Fast Drying
Cons
Piggy Paint
Piggy Paint 100% Non-toxic Girls Nail Polish - Safe, Chemical Free Low Odor for Kids, Wild Child, 0.5 Fluid Ounce

NON-TOXIC WATER-BASED FORMULA – Free of Harsh Chemicals & eco-friendly. 5 Free, 7 Free, Vegan & animal cruelty free, All Free. NO Formaldehyde, NO Toluene, NO DiButyl Phthalate (DBP), NO Formaldehyde resin, NO Bisphenol A, NO ethyl acetate and acetone or Camphor.
ODORLESS – Natural ingredients make Piggy Paint nail polish virtually odorless compared to solvent-based alternatives.
KID-FRIENDLY, SAFE FOR PREGNANCY – Made in the USA, you can rest assured that this water-based polish is safe for pregnant & nursing moms, for use on babies, toddlers and young children.
Piggy Paint was created by moms for use on their children. They wanted to make it safer for themselves, too, if they are pregnant or trying to become pregnant. The "seven-free," water-based formula is completely non-toxic. This makes it entirely safe for kids that frequently have their fingers in their mouths. It is also 100% odorless and hypoallergenic. It's created perfectly for children. However, its water base does make it a little thin, so multiple coats are needed for a good, smooth coverage; the base also allows it to chip fairly easily.
Pros
Safe for children and pregnant mothers
Chemical free
Odorless
Cons
Takes a lot of coats for good coverage
Does not dry quickly
Chips easily
Pacifica 7 Free Nail Color
Pacifica, Nail Polish Rose Gold 7 Free

For all who want a little magic on their fingertips and toes.
7 FREE is formulated without parabens, phthalates (dibutyl phthalate), toluene, xylene, camphor, formaldehyde, resin, and animals.
Pacifica's "seven-free" formula lacks seven of the harsh and harmful chemicals that are typically found in nail polish. This makes the nail polish vegan-friendly and cruelty-free.  It is designed to go on smooth and fully to last a long time. It is also one of the most affordable polishes on our list today.
Pros
Long lasting
Doesn't contain harsh chemicals
100% vegan brush
Cons
Chips easily if not painted on thick or no top coat is applied
Not true to color
The Verdict
After reviewing these organic nail polish brands, we suggest that you try Zoya first. They provide a menagerie of colors that go on thick and smooth with very little effort. The polish lasts for a long time before it starts to chip, which is typically unusual for organic nail polish. This brand also has the most amount of chemicals eliminated from it.
While some on this list have gotten rid of three or even five and seven harsh substances, Zoya has taken a total of 10 out of their products. This makes them the most organic and vegan-friendly on the market. They are also fairly affordable. Others on this list will cost you $20, but this highly effective and highly safe brand will only cost you half of that. We think it's quite a steal considering all the many benefits that it offers.
Be sure to check out these brands for yourself to ensure that you are keeping your nails beautiful in the healthiest way possible.
Last update on 2021-09-17 at 00:21 / Affiliate links / Images from Amazon Product Advertising API